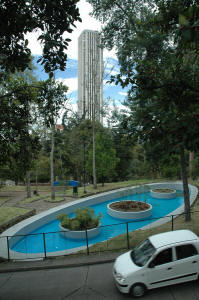 Back in the older section of Bogota, near the historic center.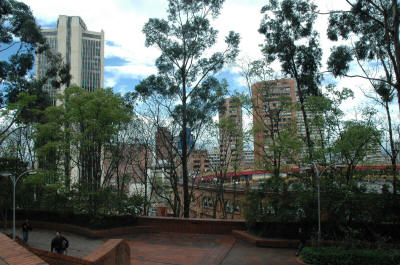 At a park in the northeastern corner of town, looking west.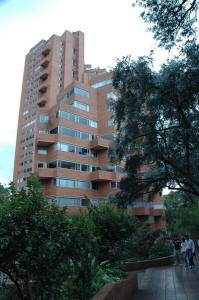 Condos in that area.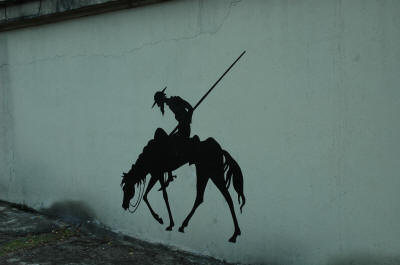 More Don Quixote.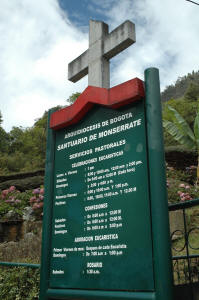 "Santuario de Monserrate" overlooks the city. A cable car takes you there from the old part of town.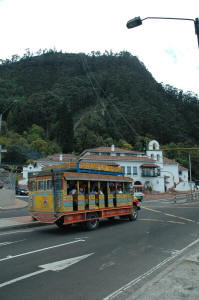 There are the cables leading to the top of the hill.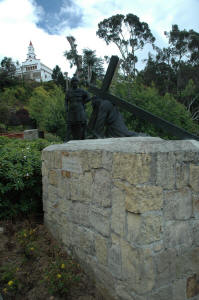 At the top there's a path with the stations of the cross leading up to the church.
Old church on top of the hill.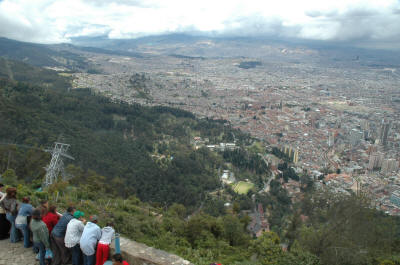 Looking over southeast Bogota.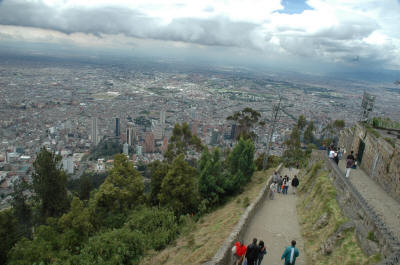 Northeast Bogota.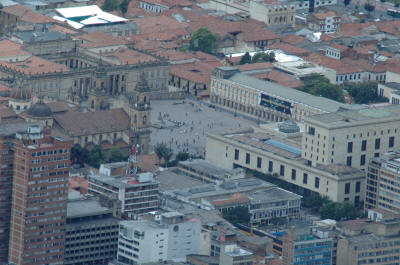 Closeup of the historic center from the hill.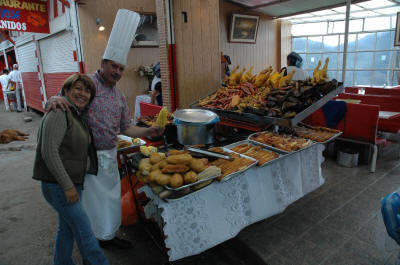 These restaurant owners had visited Argentina 20 years ago. They were nice but I really don't like the way he's looking at me with that corn cob.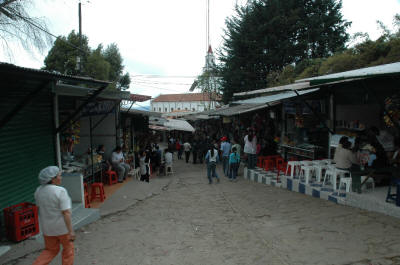 Lots of restaurants and trinket shops on the hill.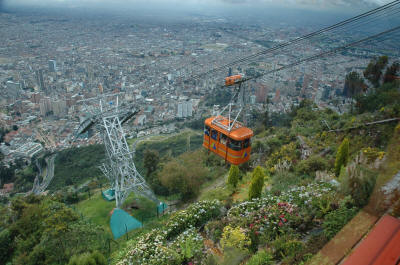 Cable car, or 'teleferico'.
Going down.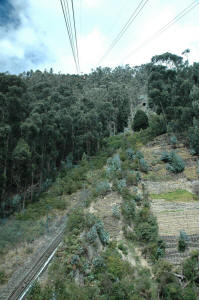 Very steep hill.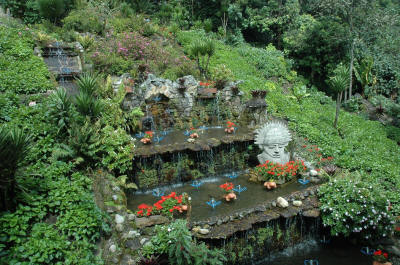 At the bottom of the hill near the boarding deck for the teleferico.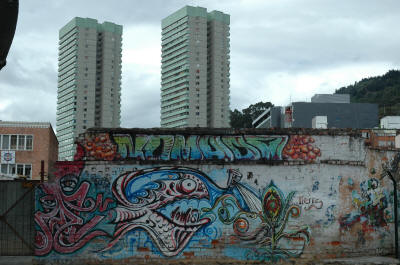 Back in the historic center, cool graffiti.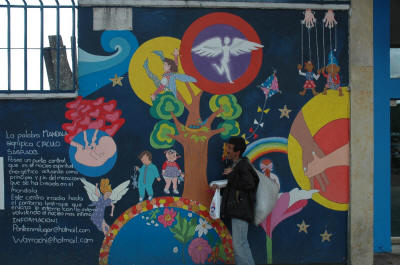 This guy ran up and posed when he saw me taking this picture, then asked for money. I just laughed and said he wasn't pretty enough, he laughed too.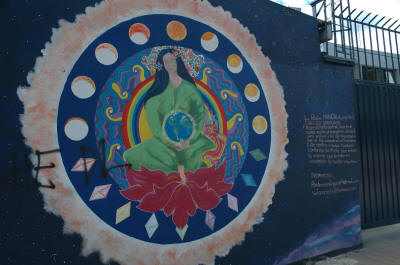 Mother Earth or Earth's mother?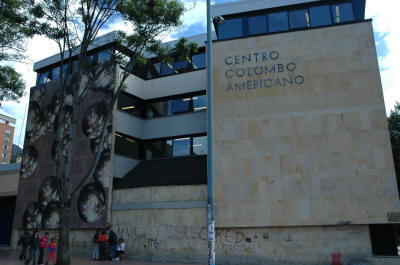 Old language school. They helped me a little in the long process of figuring out how to get my motorcycle on an airplane.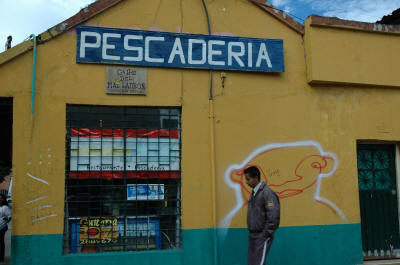 Just a corner shot near my hotel.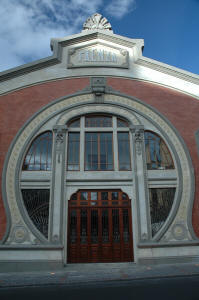 Cool old building.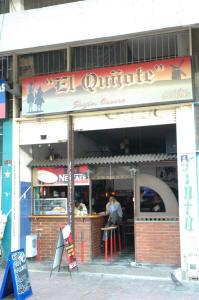 More Don Quixote stuff.
In the more modern, north end of Bogota.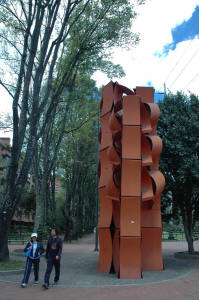 Park in the north end.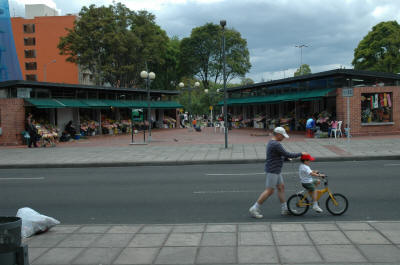 Every Sunday between 9:00am and 2:00pm they close the main road that runs north/south through the city so people can bike, run or whatever.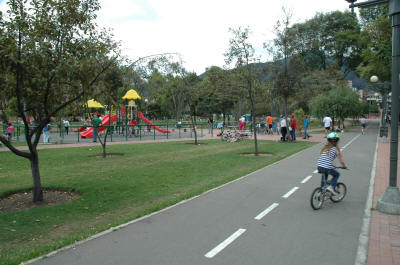 More north-end park stuff.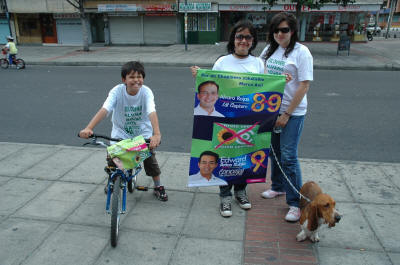 Political pundits.
One of three fancy, very modern north-end malls.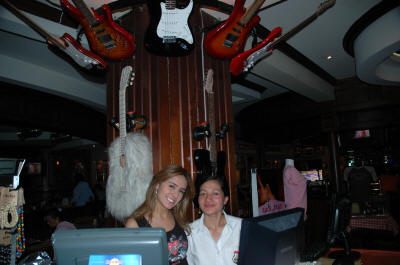 Bogota's Hard Rock Cafe. The black guitar behind the girl on the right was signed by Shakira, Colombias favorite daughter.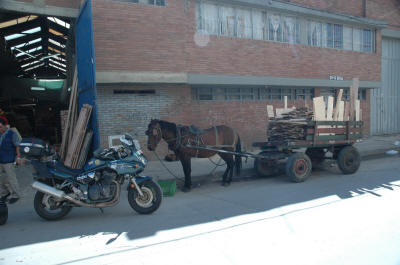 Old meets new? This is the place where they put my bike in a box. It's common to see single horse-drawn carriages in the city and on the highways.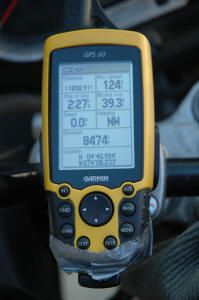 Final GPS reading before putting it in the box.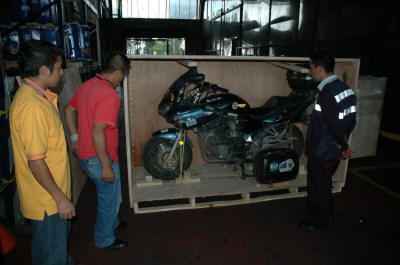 That's the box, at the airport. The guy on the right with the red dip-stick made us empty the tank; Julio siphoned it for me.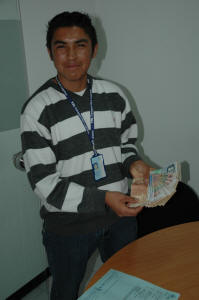 That's Julio, back at the office, with the money it took to fly my bike back to the US - about $1,400 USD, and they wanted cash, which wasn't easy.