This page starts just north of the border with Ecuador and continues on to Pasto, Popayan and Palmira. There was a greater military presence here than anywhere else I traveled in Colombia but I had heard enough about them being the good guys that it made me feel more comfortable - plus they always waved and gave thumbs up and seemed glad to see a gringo passing by. This mountainous region in Southern Colombia is known for some rebel action and was one of the places where it was recommended not to leave the main highway when traveling between cities; no problem here.
This first week in Colombia gave me the feeling of being somewhere I wasn't supposed to be, as if I'd gone to Cuba. Even though I had heard from 20-30 bikers, and many other sources which confirmed Colombia's relative travel safety over the last 5 years, it was still exciting and a bit scary because of its obvious reputation for drug cartels, kidnapping and general mayhem. This feeling was accentuated by the high frequency of soldiers - always with machine guns and often in tanks or off road vehicles with 50 cal. weapons mounted on top, as well as the complete absence of other gringos and tourists.

Click on the image but watch out for the side effects.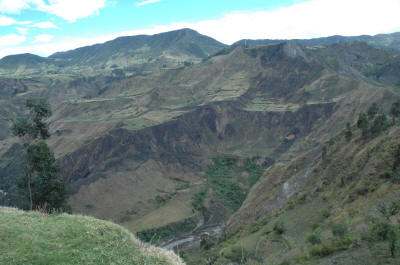 A couple miles north of Ipiales, the very sketchy border town entering Colombia, I pulled over to take a few pictures.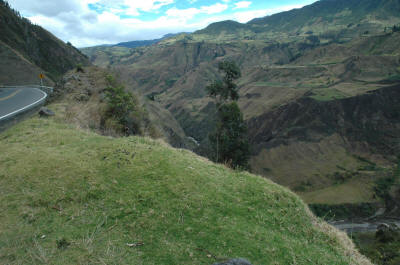 This winding road goes through the valley to Pasto.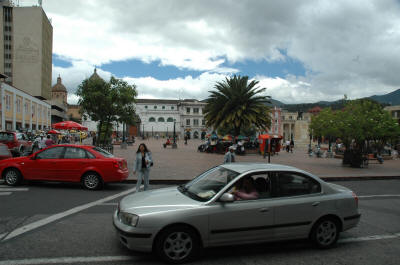 Pasto, the odd city about 60 miles north of the border.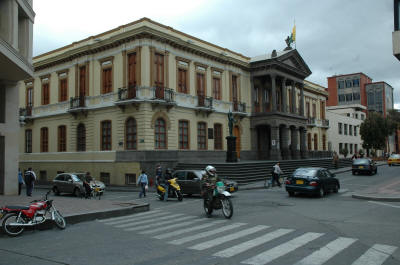 It was a little dark and cold and boring at first.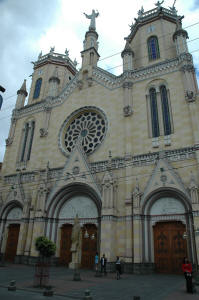 Very Spanish looking churches in Colombia.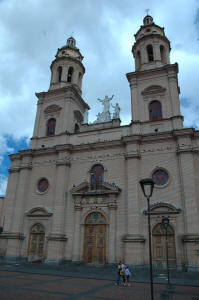 More.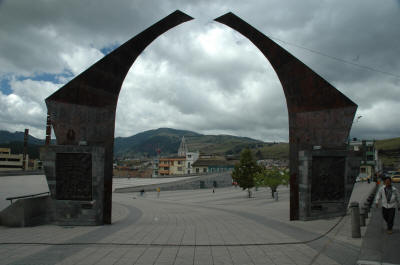 Town center.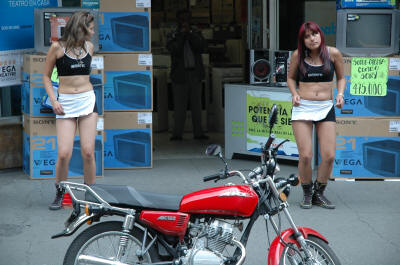 The most popular form of advertising in Colombia is loud music and dancing girls, accompanied here by a guy shouting out deals on TV's and microwaves.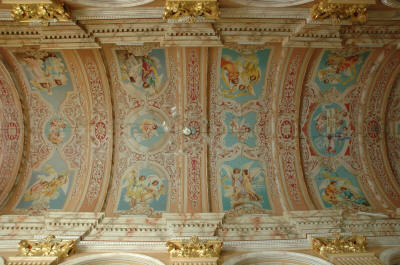 Old church ceiling.
Indigenous symbols.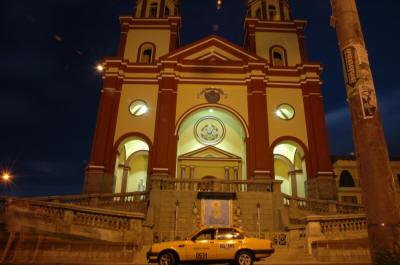 Another church in Colombia. Spain built tons of them here.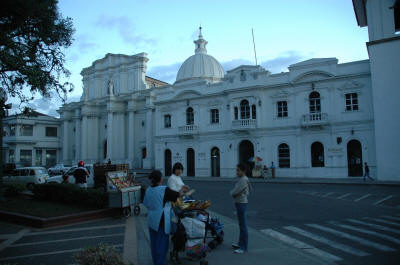 Popayan, a very colonial city with no gringo's.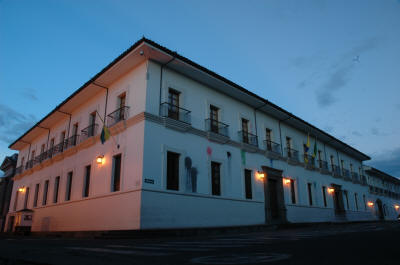 Many white buildings around the center.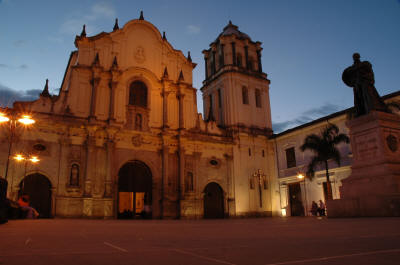 Popayan cathedral in the town center.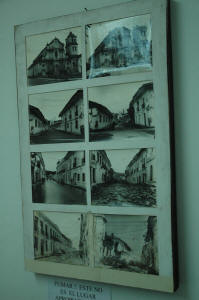 Before and after pictures of the neighborhood showing severe damage from an earthquake in the 50's.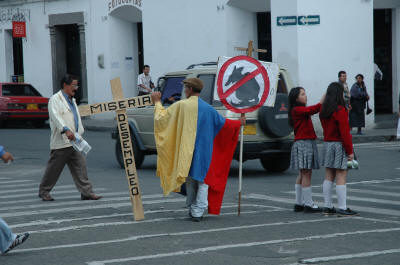 Protesting unemployment.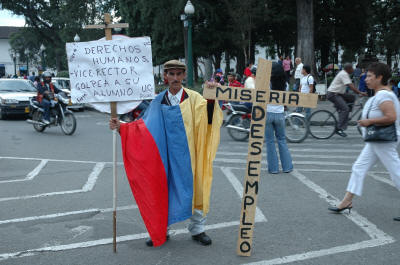 Happy to pose with his human rights statement.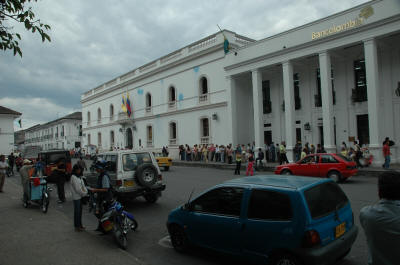 More white buildings, accentuated with paint-ball spots.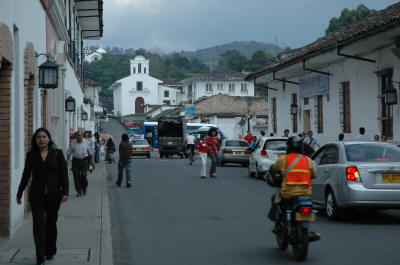 Popayan street shot.
I spent several days in this small city getting my tire fixed. The first guy did more harm than good and used a patch that would have fallen off.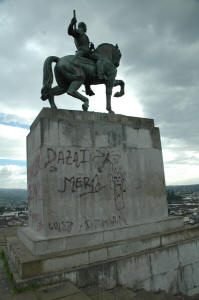 I described him and his helper as "two retarded monkeys trying to do surgery for the first time" on September 3.
These guys patched the tire correctly the next day. I didn't take a picture of the other guy.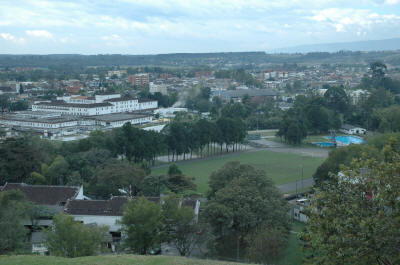 View from the hill where that man on a horse sits, from 2 pictures ago.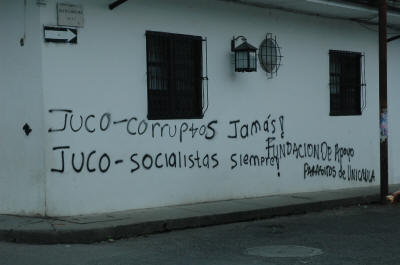 Socialist graffitti - I later found out that the southern part of Colombia has a fair amount of FARC involvement.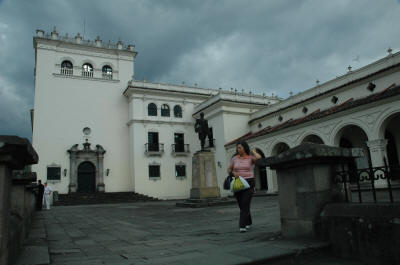 How's my hair?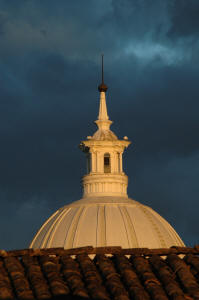 Funky light shot. The people at the Plazuela Hotel were very helpful. Popayan is a nice town but it gets boring after 2-3 days.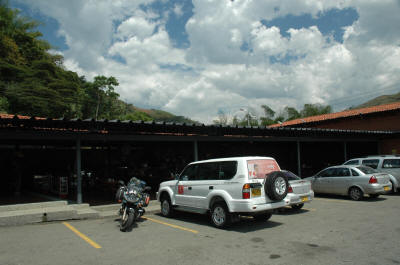 Lunch stop on the highway between Popayan and Palmira. Palmira is about 100 miles north of Popayan.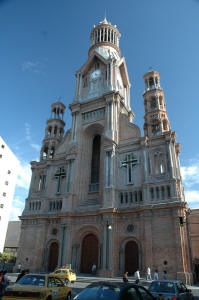 Cathedral at Palmira.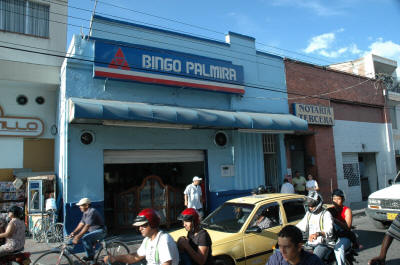 Palmira - bingo and heavy traffic. Nice people but I was sort of glad to leave that dusty, stuffy little city.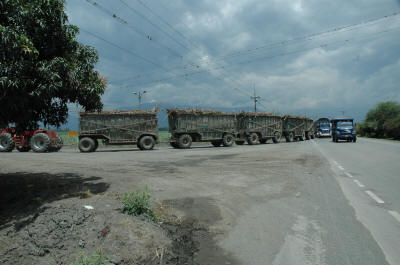 Leaving Palmira, one of the many "road trains" of sugar cane cars - 5 of them here being pulled by a tractor.